Hygge!? A Design Trend I Love for 2019!
hyg•ge
/ˈh(y)o͞oɡə,ˈho͝oɡə/
noun
a quality of coziness and comfortable conviviality that engenders a feeling of contentment or well-being (regarded as a defining characteristic of Danish culture).
What is "hygge"?
The design world has been fascinated with simplicity for years. Clean modern lines, or simple clean curved furniture, or large spaces filled with only the necessities. 2019 seems to be a year marked with simple but effective "splurges".
One of my favorites is "hygge". Hygge is a Danish word meaning "coziness & comfort" that brings about a feeling of contentment or well-being. Some definitions include a special mood or atmosphere that is charming.
Though recently trendy, hygge is not a brand new concept. The word appears in the Danish culture & Norway but has been popularized in the late 19th century. Then in 2016, the most popular book on hygge was published in London called The Little Book of Hygge: The Danish Way To Live Well by Meik Wiking (CEO of the Happiness Research Institute in Copenhagen). The book made its way to the United States in 2017.
In 2004, Alex started hyggehouse.com and began writing about the Danish mood. She writes this on her about page:
"It literally only requires consciousness, a certain slowness, and the ability to not just be present – but recognize and enjoy the present. That's why so many people distill 'hygge' down to being a 'feeling' – because if you don't feel hygge, you probably aren't using the word right.
Another definition of hygge is "an art of creating intimacy" (either with yourself, friends and your home). While there's no one English word or simple definition to describe hygge, several can be used interchangeably to describe the idea of hygge such as cosiness, charm, happiness, 'contentness', security, familiarity, comfort, reassurance, kinship, and simpleness.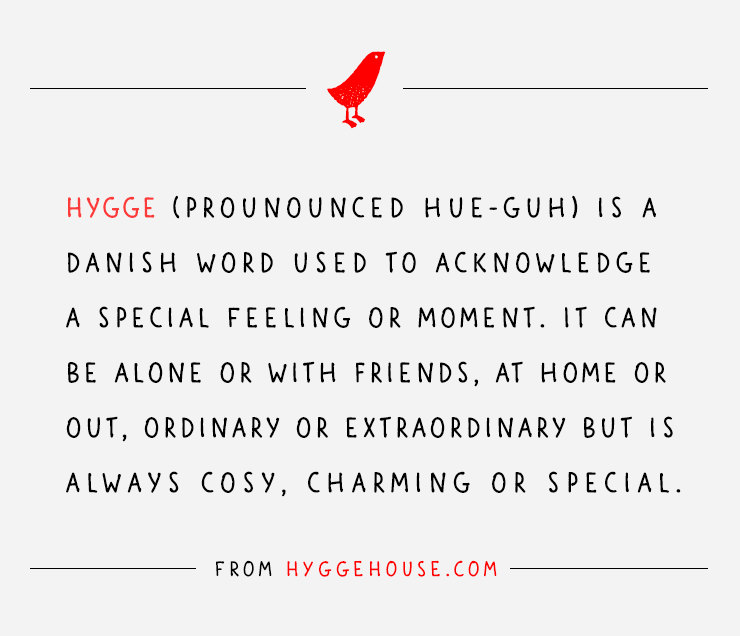 Danes created hygge because they were trying to survive boredom, cold, dark and sameness and the undefinable feeling of Hygge was a way for them to find moments to celebrate or acknowledge and to break up the day, months or years. With so many cold, dark, days, the simple act of a candle glowing with a cup of coffee in the morning or a home cooked evening meal with friends can make a huge difference to one's spirit."
I found her site fascinating and thought that this bit was the best description of the history of hygge and its definition. Follow Alex to see more of her hygge life.
Hygge in home design & decor.
Hygge has a very specific and distinct feel and yet is somewhat open to interpretation. A summation of the design recommendation might be to take the simplicity of Scandinavian & Norwegian design and add materials, textures, and colors that provide a sense of special, charming comfort and coziness allowing one to be "in" the moment but not distracted from the moment. Maybe it's bringing the outside in (wood by the fireplace) or linens with a stripe, a special comfy chair instead of a simple chair, wood designed walls instead of shiplap, a fluffy comfortable throw, a favorite series of coffee mugs, storing spices so they can be seen, or albums & memories set out to enjoy, and so on. The design elements are still simple, but now with a meaningful personal touch. Here are a few of the designs that we have found most closely represent the definition and embody the mood and atmosphere of hygge.
Why we love it
For years, we have seen the stripping away of personalization in the design culture. Recommendations were modern & contemporary almost museum feels with colors of gray & greiges, & wood or metal accents. They suggested accent walls with pops of color and even wallpaper making a come back with mixed metals and shiplap. All very "pretty" and while some home owners found ways to express who they were within those design confines, most felt the design schemes were too uncomfortable or not homey enough to live that way long term. With the introduction of hygge, home owners should feel a since of freedom to add simple personal touches that make them feel more cozy and at home; personal touches that provide near ritualistic sense of connection with themselves, the home, and friends or family.
What do you think? Are you going to let Hygge in your home?